Together driving a dynamic society
through innovative technologies
Innovation - OUR VALUE
Keep working on the new for innovation. Don't be stuck on the successes of the past.
Technology - OUR SOURCE OF ENERGY
Accomplish things which could be unrealized before, with technology.
Dynamic Society - OUR GOAL
Drive a more dynamic society for each individual through innovation & technology.


Play Video (only in Japanese)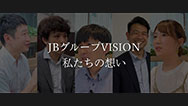 Our Passion for the Vision
(Voices of our employees)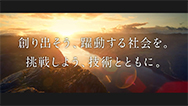 Concept Message of our Vision
(This is narrated by our employees)